Our Store
You can buy your clothes, shoes, gear, and gifts from a catalog, a big box store, or online. But here on Main Street, we offer an alternative that focuses on you!
Here's how:
• We take the time to find out what fits your lifestyle as well as your shape.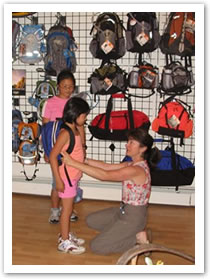 • And of course we carry only quality brands that stand behind their products.
• All of our products are personally selected to give made-to-last value, high-quality comfort, and just plain enjoyment.
• When we go to trade shows or consult with our sales reps, we're on the look out for products you'll like because we know our customers like no algorithm ever can!
For all these reasons, we've decided to keep our store in our store for now. So come visit us!
We like to think of ourselves as a small town store with a big heart.
We're proud to carry quality clothing, footwear and gear including: Asolo, Bogs, Keen, Kelty, Leki, Life is Good, Lole, Merrell, MSR, Osprey, Outdoor Research, Sorel, and Thermarest. For a look at these and more of Morgan Outdoors' select brands, click here.

"Like" us on Facebook!
46 Main Street, Livingston Manor, NY 12758
Phone:(845)-439-5507 [email protected]