Our Store – Gift Certificates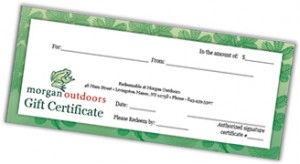 Having trouble finding the perfect gift ?
Unsure of the right size or color?
Is there a fussy person on your list?
Let us help.
Give a Morgan Outdoors Gift Certificate!
They come in sizes to fit your budget – from $20 on up.
If you can't get to the shop, you can purchase them over the phone.
Just call us with the name and mailing address of the person you'd like to
give one to, the amount, and your credit card information.
We'll arrange to get your gift certificates right where you want them to go!
We accept VISA and Mastercard and we're open to take your call:
Mon, Thurs, Fri and Sat: 10:00am – 6:00pm EST
Sunday: 10:00am – 3:00pm EST
(Sometimes it gets very busy at the shop and we may need you to hold until we can break free.
Thanks for your patience!)
Gift Certificates take the Guess Work out of Gift Giving!

"Like" us on Facebook!
234 Main Street, Hurleyville, NY 12747
Phone:(845)-693-4181 [email protected]