Who We Are – Main Street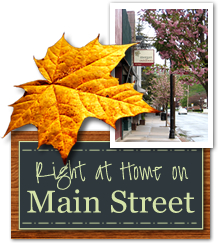 Coming to see us in Livingston Manor isn't just a way to reconnect with nature, it's a way to reconnect with yourself.
                                    Slow down.   Relax.  Recharge.
Our area's beauty has inspired visitors for centuries; now our village itself has become a destination. Some of our favorite places are just a stroll down Main Street.
You can enjoy our top-notch art space, the CAS Arts Center. Treat yourself to a delicious cup of coffee and some fresh local produce at Main Street Farm, just down the sidewalk. Top that off with homemade soups or pastries at Cafe 43 across the street. And visit the Catskill Brewery to sample some of their delicious craft brews. Attracted by our famous fly fishing? A stop at the Catskill Fly Fishing Center is a must. And if all this shopping has made you peckish, end your saunter with dinner at The Arnold House, Kaatskeller, The DeBruce, Madison's Main Street Restaurant, or Chinatown Kitchen.
Here are some of the great business establishments that can be found In Livingston Manor. Whether you want to have a quick snack, buy some groceries or send a bouquet to friend, there's a place to do it here.
Madison's Restaurant and Ice Cream Stand
Sugar Blossom Flowers
Plunk (home of armeffects handmade bags)
Cabernet Franks  (in nearby Parksville)
These sites may be helpful too:
Livingston Manor Chamber of Commerce
Sullivan County Visitors Association
You may like it here so much you don't want to leave. That's okay, we have real estate folks on Main Street too!

"Like" us on Facebook!
46 Main Street, Livingston Manor, NY 12758
Phone:(845)-439-5507 info@morgan-outdoors.com