Past Events
Below are some of the events we have sponsored in the past. Other events can be found on the "What's Going On" page and in the archives.
Saturday June 14th
the 11th Annual Trout Parade rolls down Main Street
Parade Day Schedule:

 
11 AM to 1 PM: Live entertainment on Main Street 
1 PM: Trout Parade steps off from LMCS lot, led by Grand Marshals
Bud & Marlene Wertheim  
       Marching bands, floats, puppets, and wacky costumes galore! 
3 PM on: Main Street alive with shops, dining, and the CAS Art Center
       Collectible T-shirts, hats, posters, and more on sale! 
Stop by Morgan Outdoors
for some fabulous Trout Parade Specials!
and visit the Parade Store
where we'll be hawking official Parade Merch!!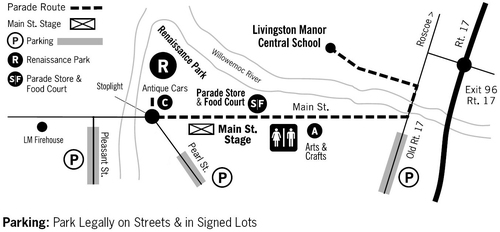 ---
Let's show a little

LOVE

to our local trails!
Come join the Willowemoc Trail Crew
Saturday, June 21, 2014 
10:30am – 2:30pm
Pick morning or afternoon sessions or BOTH!
Call Lisa @ Morgan Outdoors with any questions
and to RSVP!
The Willowemoc Trail Crew will be working on the trails in the Frick Pond area.  
Cutting back brush and maintaining drainage structures. We might even do some drainage work on wet areas.
Wear waterproof boots; dress for the outdoor conditions; bring water; work gloves; and a bag lunch.
You don't need to be a member of the Trail Conference to join the Willowemoc Trail Crew.  
No experience is necessary, we will provide the tools and training on site before we get started.
---
NOW on EXHIBIT at MORGAN OUTDOORS!
Edible Plants ~ Wild & Cultivated"
Botanical art by Wendy Hollender
May 17 – July 6, 2014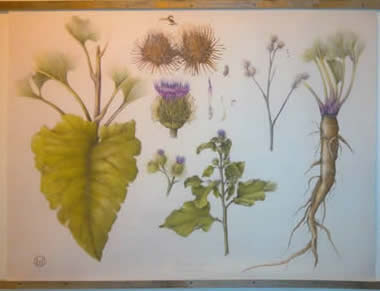 Burdock, a giclee print on canvas, byWendy Hollender.
The exhibition includes illustrations

from the new,
award-winning book
Foraging & Feasting: A Field Guide and Wild Food Cookbook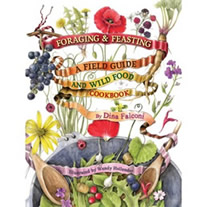 by Herbalist Author Dina Falconi
Illustrated by Wendy Hollender
See more of Wendy's work at www.drawingincolor.com
Artwork, books, and greeting cards all for sale.
---
We celebrated NATIONAL TRAILS DAY
Saturday, June 7th
with John DeSanto's entertaining, informative evening about
the Appalachian Trail – hiking in New York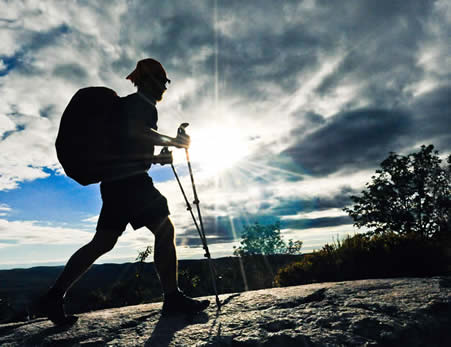 Photo by John DeSanto
Arguably the world's most famous footpath, the Appalachian Trail stretches 2,180 miles
from Springer Mountain, Georgia to Mount Katahdin, Maine, with lots of ups-and-downs in between.
John DeSanto began hiking on weekends along Orange County's portion of the Appalachian Trail last fall
taking notes and photographs for the April/May 2014 edition of Orange Magazine.
He borrowed his daughter's school backpack, became hooked on hiking, and along with 40 pounds
of newly-purchased hiking equipment, now harbors a dream of walking the entire trail some day.
John DeSanto is the Director of Photography at the Times Herald-Record newspaper in Middletown and lives near the "AT" in Warwick, N.Y.
We carry many AT books & maps.
Come in to browse and dream!
---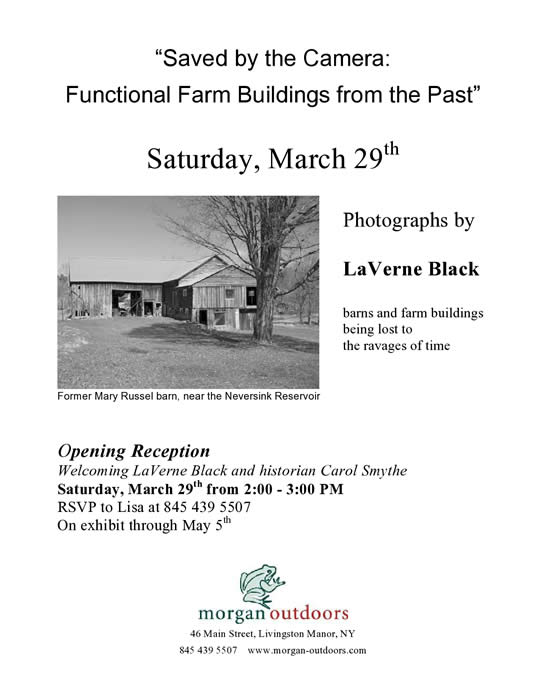 The exhibit is just a sampling from the work of LaVerne Black and Town of Neversink Historian Carol Smythe to document old buildings that were being lost to the ravages of disuse and time. The photographs were purposely taken in black and white rather than color. "This let the viewer focus on the detail of the photograph more than if they were distracted by the beauty of color" said Smythe. "LaVerne's creativity turned each photo into much more than just a recording of a past time. Her artistry enhances each photo."
The photographer and historian felt the need to preserve the history of smaller barn buildings such as sap houses, sheep sheds, and chicken coops. "Many times I have returned again to a favorite barn or old abandoned house," said Black, "finding some had either been removed or fallen to the ravages of time and neglect. The importance of preserving our agricultural heritage began to take shape in my mind and my art."  
---
Outdoor Enthusiasts' Film Series
Saturday, April 5    6:30 pm
Based on a true story, the 2011 Emmy-winning film My Life as a Turkey chronicles one man's remarkable and moving experience of raising a group of wild turkey hatchlings to adulthood.The nature cinematography is fantastic and the story is truly endearing. (60 mins)
Saturday, February 1    6:30 pm
Everest is the compelling true story of a team of climbers, including American Ed Viesturs, that ascended Everest in 1996. The 1998 film, narrated by actor Liam Neeson, chronicles their successful ascent just days after fellow mountaineers died on the mountain. (45 minutes)  GEAR SHOW & TELL of mountain climbing gear. SPECIAL EXHIBIT: Everest-inspired books, movies, and maps, created by the Livingston Manor library.
Saturday, March 1    6:30 pm
Toughest Race on Earth: Iditarod takes exciting look behind the scenes of the amazing 1000-mile long dog sled race. The film kickeds off a week-long 2014 Iditarod celebration in Livingston Manor, highlighted by * March 8th at 3:00pm: veteran Iditarod racer Kim Darst and her sled dog Cotton
* Screenings at Morgan Outdoors free and open to the public. Reservations 845/439 5507. Series co-sponsored by Morgan Outdoors and the Livingston Manor Library.
---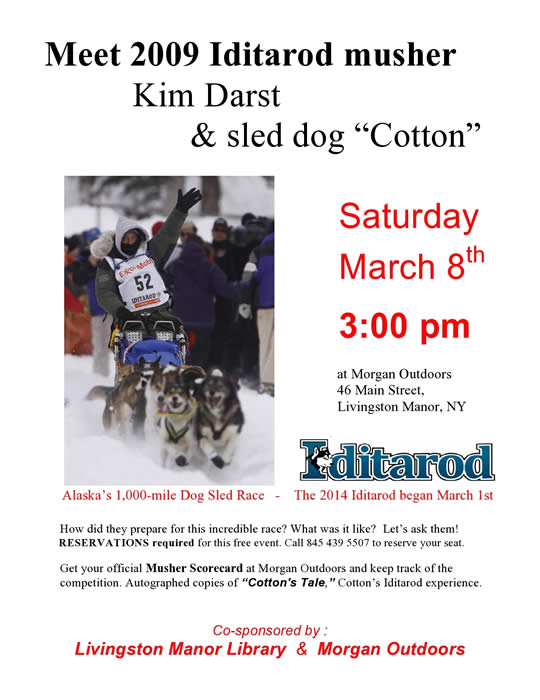 ---
Hooray!
nearby Willowemoc Wild Forest
(home of Mongaup State Park and well-known trails: Frick Pond, Wagon Tracks and Flynn Trail)
Voted 1 of the
10 Best Winter Hikes in New York
by I LOVE NY
 From the archives: a Morgan Outdoors snowshoe outing, Frick Pond, 2006
Here's what the award givers said:
"In the southwest corner of Catskill Park, enjoy more than 40 miles of rolling,
hills. If you're interested in wildlife, Willowemoc is home to black bears,
white-tailed deer, beavers, coyotes, and wild turkeys. "
So STOP IN
Get a free hand-drawn map to these beautifult trails
(from short to long, easy to challenging)
*  *  *  *  *  *  *
Thanks Liberty Parks & Recreation
for partnering with us on Oct. 30th for the
Walk to Witch Way
at Walnut Mountain in Liberty, NY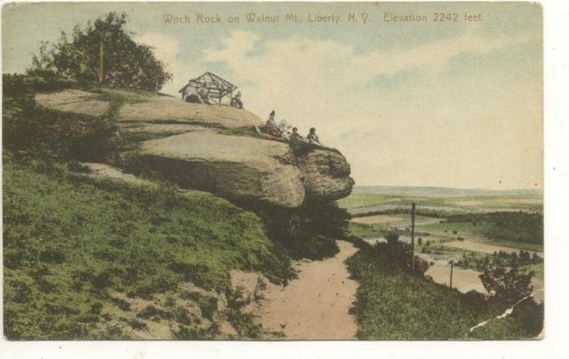 It was the perfect destination for a walk during Halloween week!
Witch Way is part of a new mountain bike trail, built by volunteers of Renegades mountain bike club. Visit and enjoy Liberty Parks & Recreation's trail network at the 265-acre Walnut Mountain Park. Directions and details, click here.
For more info, contact Brian Scardefield, Liberty Parks and Recreation Director, (845) 292-7690 
Sponsored by:
 Liberty Parks & Recreation – Renegades mountain bike club and Morgan Outdoors
---
Thanks John Haas
author of newly revised Birding Guide to Sullivan County, NY (3rd edition, 2013)
for bringing your newly-revised book to Morgan Outdoors.
Get your signed copy while supplies last!
We loved the Basha Kill Area Association displays and
colorful take-home maps too.
THE AUTHOR: John Haas has been an avid birder for 21 years. His Birding Guide to Sullivan County, NY is a fully revised field guide on where and when to find birds in Sullivan County with special focus on the Basha kill. A new set of photos reflects everything from common species to some of the extreme rarities that have found their way to our area. New birding sites have been added and there is an updated checklist of birds that is very handy.
---
The WINNERS of the
Morgan Outdoors
5th Annual

Five FireTower Climb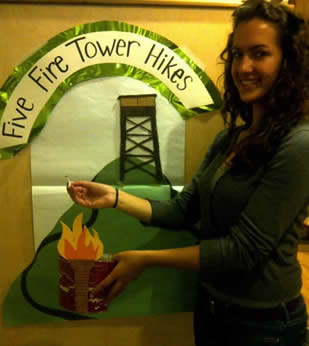 are:
Hillary White of Watertown, NY
Linda Brandt of Phoenicia, NY
Kevin Lightle of Liberty, NY
These adventurous folks made their way
to one or more of the 5 remaining Catskill Fire towers,
entered their hikes on a Morgan Outdoors 2013 FireTower PASSPORT,
and turned it in by Oct. 14th to be entered in the drawing.
The Grand Prize was a pair of Nikon Waterproof binoculars!
Runner up Prizes:  Kelty day pack, Darn Tough socks.
We collaborated with the Watershed Post to offer
Catskill Fire Tower Badges
to the first 100 people to turn in their PASSPORTS!!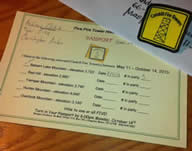 Thanks to all the firetower volunteers who greeted
these, and many other, hikers at the towers this year.
The torch in the photo above is for you!
If you'd like to know more about Catskill Fire Towers, here are a few websites to get you started:
      www.catskillcenter.org/towers/
      www.facebook.com/pages/Catskill–Fire–Tower
      www.catskill-3500-club.org/catskill-peaks
We also have signed copies of Marty Podskock's "Firetowers of the Catskills" 2nd edition
Laurie Rankin shows how the alidade in the tower's cab was used to determine the location of a "smoke" (fire)
Laurie and Tom Rankin are Volunteer Coordinators at Balsam Lake Mountain Fire Tower (elevation 3,723′).
---
Thanks Jerry Cohen!
for your amazing photographs in the exhibit
Raptors Through The Lens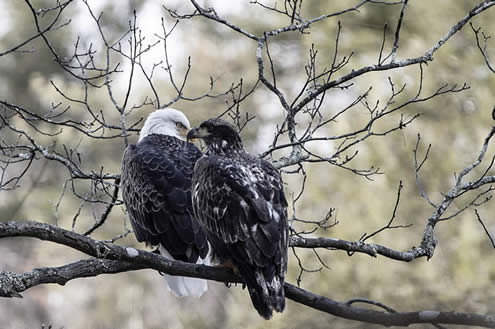 Adult and Immature Eagle Pair, photograph by Jerry Cohen
We loved exhibiting your photographs of
birds of prey – hawks, eagles, owls, osprey and falcons
PHOTOGRAPHER: Jerry Cohen is the owner of Sage Photographic. He is based out of the Stray Cat Gallery in Bethel, NY and has shown at the Red Eft Gallery in Wurtsboro, CAS Arts Center in Livingston Manor, with shows coming up in the Liberty Museum and the DVAA Gallery in Narrowsburg.
---
Thanks Jeff Senterman for your program
Long-Distance Catskill Trails
 They say 10 miles hiking the Devil's Path . . .
is like 20 miles hiking anywhere else.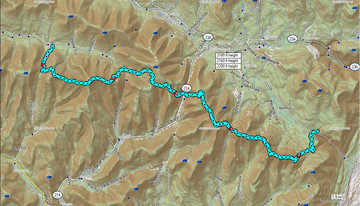 Friday, October 11th  6:00pm
Jeff Senterman brought stories, details and great photographs
of several challenging long-distance trails in the Catskill Mountains –
the Long Path,the Devil's Path and the Escarpment Trail.
Jeff is the New York-New Jersey Trail Conference's Senior Program Coordinator
and editor of a forthcoming guide to Catskills trails. 
This was one of over 50 planned events for the 10th Annual Lark in the Park.
The full schedule at www.catskillslark.org might give you some great ideas for outings!
---
  BASIC MAP & COMPASS

Saturday, JULY 13 10:30 AM
 WHAT: Reconnect with a skill set that is rapidly disappearing.  In a one-hour session, you'll be introduced to interpreting a topographic map, to understand lay of the land, and use of a compass for navigation.
WHY: These simple, increasingly forgotten skills are practical to know
and help us reconnect with a world often overlooked in busy lives.
---
Get 'em here!
Signed copies of Alan's Via's book
The Catskill 67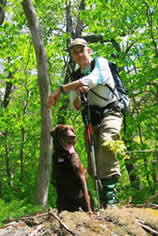 Bookah and his hiking buddy Alan
THE AUTHOR: Alan Via has led hikes for the Adirondack Mt Club, Catskill 3500 Club, Appalachian Mountain Club, and Taconic Hiking Club for 35 years. He was Albany ADK's Outings Chair for 14 years, and is currently an ADK Main Club Committee Chair. He's a "regular" and winter 46er and 35er, Northeast 111 completer, and has hiked all over the western and Canadian mountains. The Adirondack Mountain Club published Alan's book, The Catskill 67 – A Hiker's Guide to the Catskill 100 Highest Peaks under 3500′ in 2012, and The Schenectady Gazetter named it one of the top 10 new books of 2012.
---
We loved the 7th annual show
"The Great Outdoors – Celebrating
Nature with Quilts"
Each quilter adds a paragraph describing their inspiration!
" Jumping Rainbows" and  "On the Rise" by flyfisher and quilter, Susan Balch, Reading VT.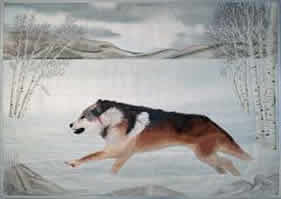 "Waya" by Katharina Litchman, Youngsville, NY

    Many of the talented quilters gathered at April 7th's Opening Reception for a group shot, then relaxed!
Shown are Linda Horak, Susan Koenig, curator Sally Abrams, Katharina Litchman, Cindy Babcock and Trish Hewston.
A canine admirer. Pilates instructor Sophia Hartell is energized.

---
We hosted a fabulous
Earth Day 2013 Event
Free screening – 42-minute film and discussion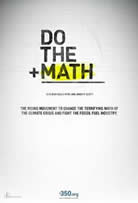 Co-sponsors: Livingston Manor Library and Morgan Outdoors
Details about the film at 350.0rg
---

We loved Maple Weekend 2013!
Thanks to the Garigliano family for hosting our walk through
the sugar bush and tour of their sugaring operation.
Catskill Mountain Sugar House, an 800-acre farm above Grahamsville, NY
Organic certification by USDA & NOFA.
---
Thanks
Iditarod Musher Kim Darst and sled dog Cotton
🙂
It was great to have you visit Livingston Manor!
Kim and Cotton (now 12d) pose with young enthusiast.  Co-sponsors Peggy Johansen and Lisa Lyons with Kim (arms around Cotton).
Kim Darst trained for 10 years to compete in the 2009 Iditarod.
 Cotton was part of her dog team!
Autographed copies of the book, "Cotton's Tale." available
at Morgan Outdoors.
---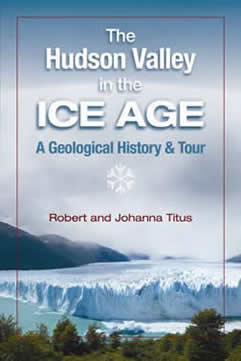 New Book Sees the Ice Age
All around Us
 

Copies in STOCK!
THANKS Robert and Johanna Titus
for taking us on a tour of the Hudson River Valley

and environs with your program

at Morgan Outdoors!
The book takes you through the Catskills, the Shawangunks, the Taconics, along the banks of the Hudson River, to Bash Bish Falls and Lake Taghkanic—demonstrating how the beauty we see every day rose phoenix-like from devastation caused by the slow advance of a half-mile-thick bulldozer of ice and raging flood that followed. The result is the landscape that inspired the Hudson River School painters and America's pioneer landscape architects—gifts of the Ice Age.
About the Authors
Robert Titus, PhD, is a paleontologist by training who has done considerable professional research on the fossils of upstate New York. He teaches in the Geology Department at Hartwick College. His previous books—The Catskills: A Geological Guide (3rd edition, 2004), The Catskills in the Ice Age (revised edition, 2003), The Other Side of Time: Essays by "The Catskill Geologist" (2007)—were published by Purple Mountain Press.
Johanna Titus, MS, has a degree in molecular biology. She teaches in the Allied Health and Biological Sciences Department at SUNY Dutchess. Robert and Johanna write regular columns for Kaatskill Life magazine, the Register Star newspaper chain and the Woodstock Times.
---
Thanks LaVerne Black!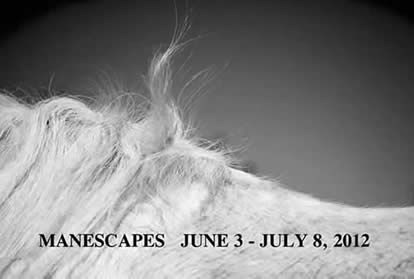 We loved hosting the exhibition MANESCAPES!
Your black and white photographs are stunningly beautiful.
 Many of LaVerne Black's photographs can be seen on her websites:
www.LaVerneBlack.com and www.laverneblack.WordPress.com
---
 

Pix from 

Trail Crew at Frick Pond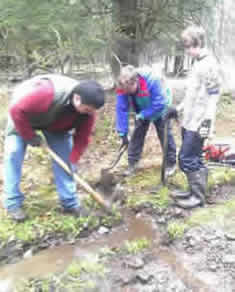 Ditch digging along trail to Frick Pond.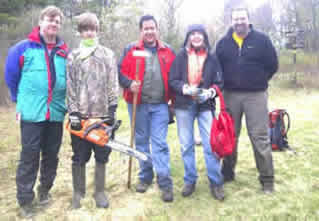 Revived crew after lunch break – ready to dig more ditches!
Morgan Outdoors and the NY-NJ Trail Conference hosted their first
Trail Crew day at Frick Pond (in Mongaup State Park) near
Livingston Manor, NY in 2011. Won't you join us next time?

These trails have just been adopted by the Trail Conference
so that volunteers – like YOU! – can sign up to maintain them throughout the year.
Contact Jeff Senterman ([email protected]) if you would like to know more
about adopting a trail. More details at http://www.nynjtc.org/ catskills
---
Thanks Charlie!
for your Flat Fix Clinic at Morgan Outdoors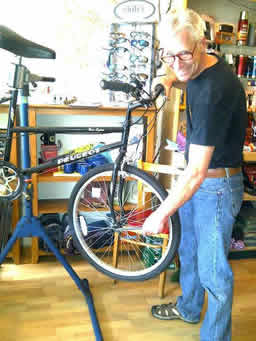 If you have a flat over the Summer, come to the
INFLATION STATION at Morgan Outdoors. It's stocked with
tire tubes and pumps, courtesy of Cinder Track Bicycles.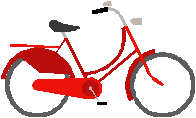 ---
Thanks Lance for leading the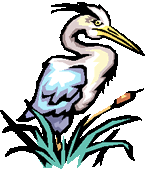 Waterfowl Walk
 in the Bashakill Wetland
If you have a chance, head to the Bashakill this Spring! Early migrating birds included Great Blue Heron and Eastern Phoebe . . .all depending on weather!
LANCE VERDERAME is the Sullivan County Audubon field trip coordinator for the New York State Young Birders Club, with a passion for birding and sharing his knowledge.
---
Thanks Whitney Hill and CRISP
for a terrific workshop about the Emerald Ash Borer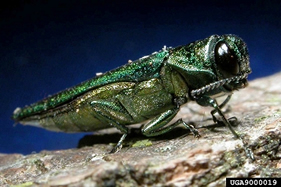 This pretty beetle, the emerald ash borer, is responsible for the death of over 70 million ash trees nationwide.
(Image Source: David Cappaert, Michigan State University, Bugwood.org)
The Catskill Regional Invasive Species Partnership (CRISP)
did a wonderful presentation to help us prepare for the arrival of the emerald ash borer.
This invasive beetle that has the potential to infest and kill every ash tree in the state of New York. 
Emerald ash borer populations have been identified locally in Orange, Ulster, Greene and Albany counties, andhave the potential to spread very quickly. If you want to identify signs and symptoms of the emerald ash borer and discover options for treatment and management of their ash resources as
well as statewide efforts to deal with this invasive forest pest,
Contact Whitney Hill (email: [email protected] or visit catskillinvasives.com.
---
USGS topographic maps of the Catskills
A great gift for map lovers, new homeowners,
hikers, snowmobilers, hunters . . .!
---
Thanks Diane!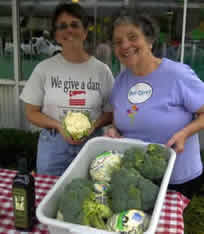 Diane Galusha (left) and Maria Grimaldi (right) celebrating the cauliflower.
We loved your program
When Cauliflower Was King
by Diane Galusha (published by Purple Mountain Press)
Signed copies of Galusha's book are in stock..
A great gift for anyone with their heart in the Catskills!
We LOVED collaborating with you on thi

s NY Locavore Challenge

event

.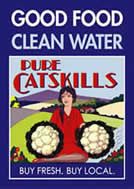 the Pure Catskills logo – also painted as a mural
on the side of Main Street Farm, Livingston Manor NY.
---
THANKS Mike Kudish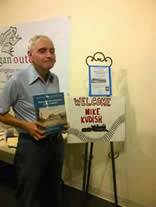 We loved your program
"Where Did the Tracks Go in the Catskills?"
We sold out of copies of your new book, just published by Purple Mountain Press,
with its amazing array of hand-drawn maps.
SIGNED COPIES

are back IN STOCK!
---
Thanks Jeff Senterman!
NYNJ Trail Conference's Catskill Regional Program Coordinator
We loved learning about the Trail Conference's work in the Catskills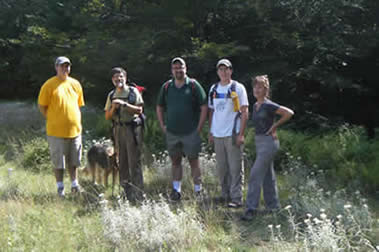 and hiking with you to Hodge Pond on the Flynn Trail.
Since 1920, the New York-New Jersey Trail Conference has partnered with parks
to create, protect, and promote a network of more than 1,700 milesof public trails
in the New York-New Jersey metropolitan region.  The Trail Conference organizes
volunteer service projects that keep thesetrails open, safe, and enjoyable for the public.
It is a volunteer-driven nonprofit organization with a membership of 10,000.
---
We were Proud Sponsors of
MazFest
in early August.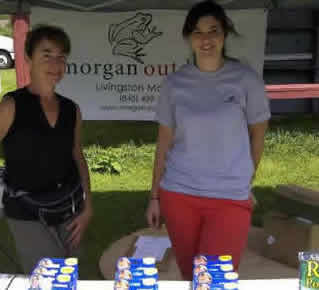 Pioneered by friends and local band MazMyth
www.mazmyth.com
Thanks for Stopping by our BOOTH! Rock On!
---
Thanks Scott Graber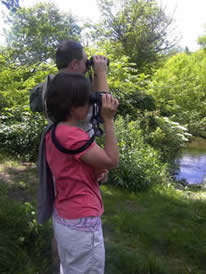 for your downtown bird walk on the closing day of
"Birds of Sullivan County – A Photographic Exhibition "
Many won't believe we saw or heard 20 species of birds
at high noon in downtown Livingston Manor on a warm Summer Day!
American Robin, Rock Dove, Mourning Dove, Song Sparrow, House Sparrow, Green Heron, Cedar Waxwing, Common Grackle, Blue Jay, Canada Goose, Cardinal, Tree Swallow, Chimney Swift, Catbird, Red-Winged Blackbird, Crow, Downy Woodpecker, Mallard, Red-Throated Hummingbird, and a Belted Kingfisher!
---
*Pix from the Children's Bird Walk* 
with Lance Verderame in  Livingston Manor's Renaissance Park!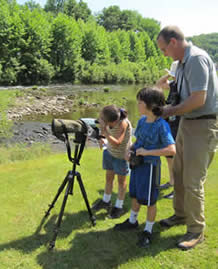 "Is that a Cedar Waxwing?"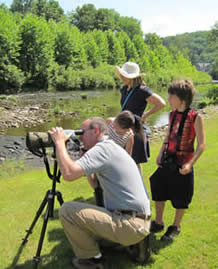 "Yes, catching insects for lunch!"
---
Thanks John Morgan!
for leading a hike to Hodge Pond & site of the former Beech Mountain Scout Camp.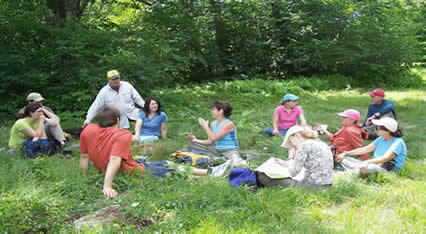 Hikers enjoying a picnic lunch at the site of the Beech Mountain camp mess hall.
Eagle Scout John Morgan was a youth staff member at the camp in the
early 1960″s. Except for a few tumbled-down cabins, all that remain of the camp
is the beautiful scenery. The entire camp property is now part of the
Willowemoc Wild Forest. 
---
Thanks Photographers !
The Birds of Sullivan County – A Photographic Exhibition
was a great success.
Here's a look at who flew in for the exhibition!!

Barred Owl – Photo by Barbara Ward-Blank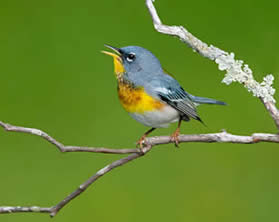 Northern Parula – Photo by Stephen Davis
Local nature photographer and birding enthusiast, Scott Graber, was
the exhibition curator.
The show was an engaging look into the diversity of species and habitat that exist in the region with guided bird walks during the exhibition period.
Pick up a copy of Sullivan County Audubon's list of bird species

"Like" us on Facebook!
46 Main Street, Livingston Manor, NY 12758
Phone:(845)-439-5507 [email protected]