Catskill Experiences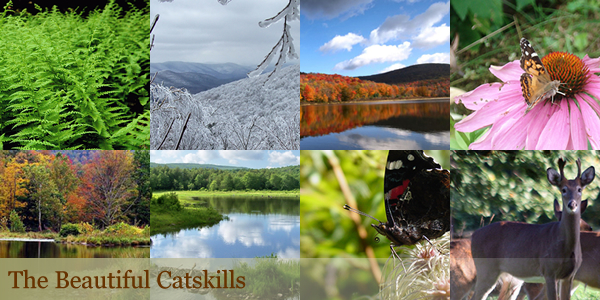 Here's what some of our neighbors and friends
LOVE about their "Special Wild Places"!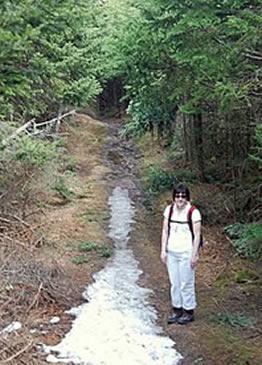 "This was taken on the back side of Balsam Mtn. on April 30th.
It's funny to find this much ice left on the trail this late in the year. " Don & Alyce Sherwood

This is on the West Branch of the Delaware River. I love going to fish there because
it's a beautiful spot. I hardly ever catch fish – they are smarter than me. " Ken Kobayashi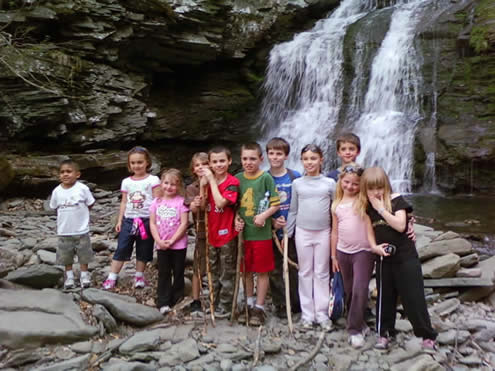 "Take 20 kids into the wild and you never know what wild things will happen. This is one of
the waterfalls along Russell Brook. What a wild time."  Dana Hendrickson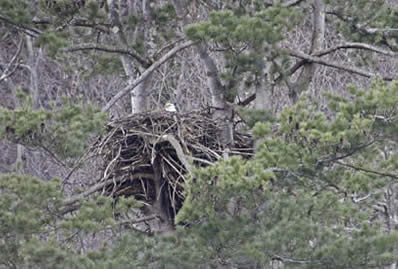 "This photo was taken by a friend and I acted as "tripod" (he balanced the camera
on my head) as the light got low on the banks of the Delaware in Callicoon"…Patti Devine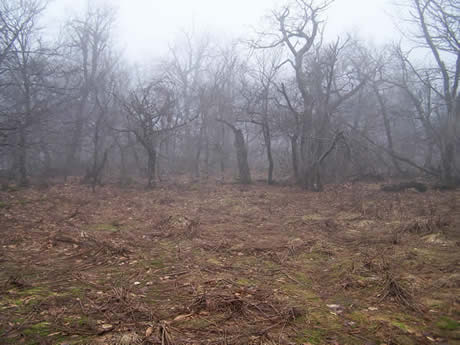 "My son and I hiked this ridge near Balsam Lake on an overcast and foggy day, This clearing is at he highest point on the ridge. It was a LITTLE spooky."  Ralph Bressler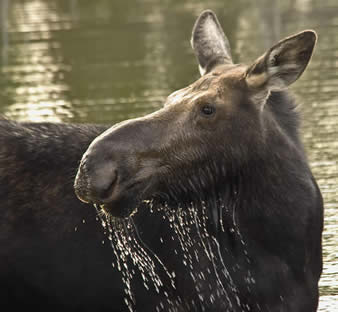 "This photo of a cow moose was taken in Grand Teton National Park, which joints at its north end to Yellowstone National Park. Nowhere in the U.S., including Alaska, have I seen so much wildlife as these two parks. It is beautiful – and wild, especially if you are willing to hike into the back country and away from the roads. This cow moose was with her calf and they moved close to where I had stationed myself to watch. Once she spotted me I had to back out quickly to avoid a charge." Ted Pilonero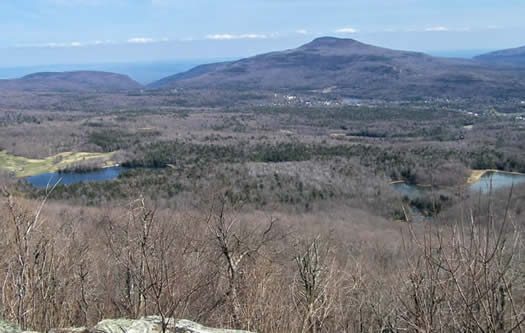 " Onteora – from a "secret" lookout on a privately owned peak. The two bodies of water are Onteora
Lake (left) and the Tannersville Reservoir (right). The biggest mountain is Kaaterskill High Peak.
From this view point you can see the Blacks, Windham Roundtop and KHP as well as the eastern end
of the Devil's Path including Hunter. Although this picture shows evidence of civilization,
I assure you that the peak is WILD "  Ralph Bressler
Thank you all for sharing these photos with us!!
 * * *
THE CATSKILL PARK
The Catskill Park- in New York's Catskill Mountains – is a big GREEN PEARL only 2 hours from the concrete and congestion of New York City.  It has 98 peaks over 3,000 feet, with 35 peaks over 3,500 feet. Three hundred miles of marked trails traverse close to 300,000 acres of Forest Preserve owned and protected by New York's Department of Environmental Conservation (DEC).  It's hiking heaven!
The Catskill Mountains are home to whitetail deer, wild turkey, black bear, coyotes, and elusive bobcats. Porcupines, raccoons, and foxes leave their tracks in the mud and snow. A bevy of birds, butterflies, frogs and turtles will keep you checking your guidebook to identify their names, sounds and ways.
The park's easy access makes it a welcoming place for novice hikers and "peak baggers" alike. Rock ledges and restored fire towers offer stunning views. Deep woods and spring-fed creeks are home to many of nature's most beautiful flora and fauna. This seasonal array of images captures the breadth of Catskill beauty – from expansive views to minute details.
The photographs shown above are winners of the "I Love My Catskills" Photo Contest sponsored by Morgan Outdoors in December 2007.  Click on each photo to enlarge it and see the photographer's name.  (Thank you photographers, for showing some of what you love about the Catskills!)
Maybe YOU will be the next one to capture a stunning view or wild creature. Get out there this Summer, Fall, Winter and Spring to experience the awesome beauty first hand.
Let the Catskills take YOUR breath away!

"Like" us on Facebook!
46 Main Street, Livingston Manor, NY 12758
Phone:(845)-439-5507 [email protected]