Saturday, June 11, from 12 to 3 pm, Ed Van Put will be our special guest
to meet the public and sign copies of his newly revised and updated book, The Beaverkill.
The date was chosen to coincide with the 13th annual Livingston Manor Trout Parade, a day of fishy festivities, including the parade floating by our door at 1:00pm.
Why not enjoy both!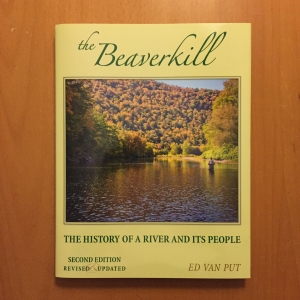 Come and meet Ed, talk fish or fishing, and pick up a copy of his latest book. Whether you're a beginning angler looking for an introduction to this revered stream or a veteran looking for the full story behind the people and places associated with the stream, The Beaverkill: The History of a River and its People provides a compelling account of an important American landmark.
New features include extensive color photos and artwork throughout; additional  text, historical information and characters; a  special chapter on "Flies with Ties to the Beaverkill" providing color photos, patterns and a history of favorite flies that entice hungry Beaverkill browns; and a section on famous (and cool!) pools to fish.
Winding through the heart of New York's Catskill Mountains, the Beaverkill is America's most beloved and famous trout stream. Van Put chronicles the river's history, offering portraits of the men and women who affected its life and development as a world-class fishery.
Author Ed Van Put has worked as a fisheries professional with New York State since 1969. An avid fly fisherman for more than fifty years, he also authored Trout Fishing in the Catskills and his articles have appeared in The Conservationist, Trout, Fly Fisherman, and Fly Rod & Reel.
This program is being offered in conjunction with the "Celebrating Catskill Waters: Past and Present" exhibition at Morgan Outdoors through Sunday, July 10thon loan from the Time and the Valleys Museum in Grahamsville, NY.  Morgan Outdoors is located at 46 Main Street, Livingston Manor, NY,  845 439 5507. www.morgan-outdoors.com