July 20th from 10:00 am – 2:00 pm
Herbalist and author Dina Falconi will present a special workshop,
Foraging & Feasting the Bounty of Mid Summer in the Catskills,
hosted by Amy Gillingham at Wild Roots Farm in Livingston Manor, NY.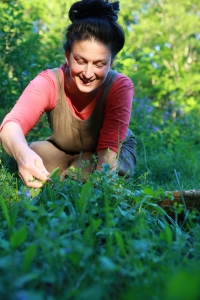 Participants will explore the wild edibles of the Catskills and learn to identify, harvest, & prepare them. The harvest will be transformed into a delectable feast in the gorgeous setting of Wild Roots Farm. The menu includes (although may vary): herbal beverages, wild salad (purslane, lamb's quarter, violet, wood sorrel, rose petals), amaranth & dock soup, wild green pesto (wild bergamot and chickweed), flower butter, and delicious bread freshly baked in the wood-fired outdoor oven.
Dina Falconi is a clinical herbalist with a strong focus on food activism and nutritional healing. She has been teaching classes about the use of herbs for food, medicine, and pleasure, including wild-food foraging and cooking, for more than twenty years. She is a founding member of the Northeast Herbal Association, a chapter leader of the Weston A. Price Foundation and on the board of Slow Food-Hudson Valley. An avid gardener and wildcrafter, Dina is passionate about ecological agriculture and has completed the Permaculture Design Certificate Course. She is the author of  Foraging & Feasting: A Field Guide and Wild Food Cookbook (Botanical Arts Press, 2013) and Earthly Bodies & Heavenly Hair.
The program cost of $50 per person includes the bountiful feast. It is limited to 18 participants. There is a Rain Date: Wednesday, July 27th.
BRING FOR MEAL: A basket filled with your plate, bowl, cup, silverware and napkin
ALSO BRING: Water bottle, notebook, pen, and scissors. Camera and drawing pad optional
WEAR: Long pants and sleeves, closed shoes. Bring extra layers for weather changes
DRIVING DIRECTIONS to WILD ROOTS FARM: Let us know if you need them
Register by: Friday, July 15th
Download and print the registration form:
A Foraging and Feasting Livingston Manor registration form 2016
For additional info, call Lisa at 845 439 5507.