Saturday, November 19
11 am to 12 pm.
Ellen Kalish of Ravensbeard Wildlife Center, along with several owls from the Center, will present an interactive program exploring their natural history.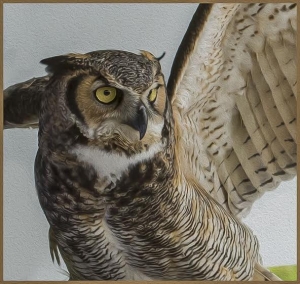 Her program will include the story of how each raptor came to Ravensbeard and their importance in the circle of life.  Participants will consider what would happen if we didn't have predators to keep the rodent population at bay and how we can support these amazing nocturnal birds. Ellen will also delve into some of the fascinating folklore about owls and what made them the center of ghost stories.
Founded in 2000, Ravensbeard Wildlife Center in Saugerties NY, is a group of licensed wildlife rehabilitators, naturalists, and educators committed to building a broader community with respect for all nature.  They strive to provide the necessary medical attention required to assist injured and orphaned wildlife to return to their natural habitats and promote community awareness, education, appreciation, and compassion.
This public program is free and donations are gratefully accepted to support the work of the Center. You must register to reserve a seat!
REGISTER:   Seating is limited, so advance registration is required. Call Morgan Outdoors at 845 439 5507 to reserve your seat.