Saturday, Feb. 4th
6:00 – 7:30pm
you're invited to our second Catskill Astronomy Club film screening!
"Mysteries of the Moon"
a 60-minute documentary, will be accompanied by pizza, salad, soft drinks, and a break for questions and second helpings.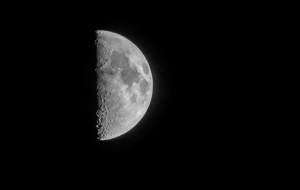 Film details:   A look at the Moon and the role it has played in the history of mankind  – once worshiped as a god; used as a timekeeper by farmers; a beacon for sailors at sea; and how it affects ocean tides and the behavior of animals. Also discussed – the transient lunar phenomenon which has baffled scientists for centuries. Sounds very cool!
Catskill Astronomy Club members John Kocijanski and Jim McKeegan on hand to answer questions and lead a lunar viewing session after the film on the sidewalk!
REGISTER: by Saturday, Feb. 4th  at 12:00pm   Tell us your favorite pizza topping!
COST: $8/person, $5/children under 16 to cover food cost.   Suggested for people age 12 and up.
PHOTO CREDIT: John Kocijanski     PHOTO TITLE: "A Few Hours Past First Quarter".  The moon was just past the first quarter that occurred before the Supermoon on November 14, 2016.  The image was taken through an eyepiece in a 4.5 inch reflecting telescope using a point and shoot camera.