Saturday, April 1st:
Opening Day of the Trout Fishing Season and time to celebrate!
WELCOME!
We're rolling out the Welcome Mat Saturday morning – 8 am to 12 pm with a hospitality table in front of the RED CABOOSE at exit 96 in Livingston Manor, serving hot coffee and donuts.
In and around Livingston Manor, you can win $50 in gift certificates* by doing a little local shopping Saturday through Sunday.
Saturday & Sunday, April 1 & 2:

Pick up a "Local Shopper Rewards Card"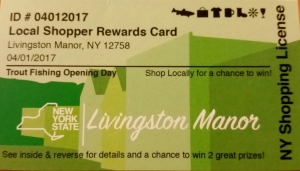 at one of 16 participating businesses,
make a $10 purchase at 2 of them,
get 2 hole punches, and turn in your card for a chance to win.
It's easy. It's FUN!
Participating Businesses are:
CAS Arts Center (no purchase necessary – just a visit!)
Dead End Cafe
Fur, Fin & Feather Sport Shop
Morgan Outdoors
The Plunk Shop
Rolling River Cafe, Gallery & Inn
 So Many great shops, restaurants, inns, breweries & emporiums of creativity!
* $25 gift certificates for both Fur, Fin & Feather Sport Shop and the Catskill Fly Fishing Center & Museum's gift shop.