Friday, September 15 at 7:00pm,
the public is invited to
"Fire Towers from a Historical Perspective"
an interactive presentation with Laurie Rankin.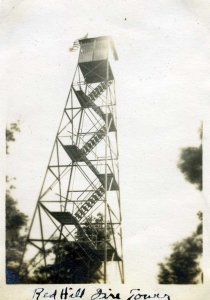 We'll explore why fire towers were needed, going back to the early 1900's on a national and state level.
Then Laurie will focus on the local area, particularly Red Hill Fire Tower, 8 miles northeast of Grahamsville, and Balsam Lake Mountain Fire Tower, 20 miles northeast of Livingston Manor.
Laurie's father, Larry Baker, was the fire tower Observer at the Balsam Lake Mountain Fire Tower from 1958-1972. "As a child, I remember looking out at the view and trying to discern the difference between the clouds and possible smoke in effort to help my Dad" said Rankin. In the 1990's, the towers intimate connection to the local communities led to an effort to preserve and reopen them. Today, five of the 23 Catskill fire towers are fully restored and staffed with volunteers most weekends between Memorial Day and Columbus Day.
Those in the community who were involved with Balsam Lake Mountain or Red Hill Fire Towers, or who have relatives who were, are encouraged to attend.
Laurie Rankin is the New York State Director of the Forest Fire Lookout Association, an avid hiker, and longtime 3500 Club member and officer. She resides in Ulster County.
RSVP: Reserve a seat for this presentation – call or email Morgan Outdoors at 845 439 5507 or info@morgan-outdoors.com
PHOTO CREDIT:  Time and the Valleys Museum, Grahamsville, NY