59th Annual Livingston Manor Rotary Ice Carnival
January 19th, 20th & 21st, 2018
 Rotary Park, Pleasant Street, Livingston Manor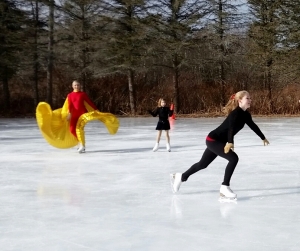 January 19th & 20th events include a dance for students and
the annual Snow Sculpture Contest for LMCS grades 9-12. This year's theme: "A Snowy Day in the Woods"
Snow sculptures will be constructed at Rotary Park .
Details on these events are on the Ice Carnival facebook page.
Sunday, January 21st

12:00 Noon


–

Snowshoeing

– try it for free; all sizes children and adult.    Sponsored by

Morgan Outdoors


– Horse drawn Sleigh ride by Butch Peters
– Race Registration – Races for all age categories.
1:00 PM


–

Skating Exhibitions

featuring nationally and regionally-ranked amateur figure skaters from the Skating Club of New York.    Walter Seeley Memorial Skating Rink, Rotary Park
2:00 PM


–

Skating Races

– Races of all age categories. 1st, 2nd, 3rd place finishers receive Olympic style medals. Presentation of trophies to male and female skaters of the day.
3:00 PM


–

Free Skating

for all!

Starting at Noon free hot dogs and hot chocolate will be served to all the kids at the Rotary Dog House. This program is funded in part by grants from the Lazare & Charlotte Kaplan Foundation, Sullivan County Youth Bureau & the Town of Rockland.
Looking forward to seeing you there!!