On Sunday, June 3rd
at 1:00pm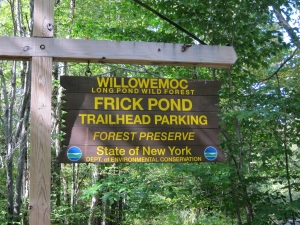 You're invited to join a spring hike around Frick Pond and celebrate National Trails Day.
This woodland hike in nearby Mongaup State Park is great for beginners and intermediate hikers. The 2.2-mile loop around scenic Frick Pond has some uneven terrain with no real elevation gain. Some sections are wet and muddy so is recommended.
Meeting Place: at 1:00pm at Frick Pond Trailhead, Beech Mtn. Road, Mongaup State Park, Livingston Manor, NY. Group size is limited so register early. No dogs on this hike. For more about the Frick Pond Loop, check TrailKeeper.org.
Register: by June 2nd. Call us at (845) 439-5507  or send us an Email at info@morgan-outdoors.com.
Driving Directions: From downtown Livingston Manor, turn onto DeBruce Road (CR 81) and follow northeast for 6 miles. Turn left onto Mongaup Road, follow 2.5 miles, passing NYS Trout Hatchery on right. At fork, stay left onto dirt road. Continue 0.2 miles and turn left at the sign into the Frick Pond Trailhead parking area.