Sunday, Oct. 7, 1:00 pm
Pick the length that suits YOU!
Frick Pond Trailhead, Mongaup State Park
This woodland hike offers two choices, so both beginner and intermediate hikers can join in. "Tortoises" will enjoy a 2.2-mile loop around scenic Frick Pond, and the "Hares" will enjoy a brisk 4.1 mile hike.
Both groups will head out together; then the Hares veer off halfway around Frick Pond, at the intersection known as "Times Square," for 1 mile uphill on Big Rock Trail, followed by 1.7 miles of gentle downhill on the Flynn Trail back to the trailhead.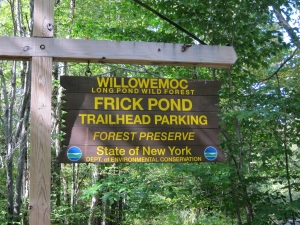 We'll try to arrive back at the trailhead at the same time!
Pick the hike length that best fits your ability.
TRAIL SURFACE: rocky terrain with some tree roots plus old woods roads that are easy to walk on.
BRING: water, snack, camera, hiking poles if you have them!
WEAR layered clothing and waterproof shoes or boots (trail is wet and muddy in spots!)
PARTNERS: we are partnering with TrailKeeper.org, Sullivan County's online source of trail information
TRIP LEADERS: Lisa Lyons of Morgan Outdoors and Heather Jacksy of SC Planning –  two of the partner organizations in TrailKeeper.org
DOGS:  this is a people-only hike; thanks for understanding.
REGISTRATION:  there's a simple online registration form at www.catskillslark.org. Select Tortoise or Hare!

CANCELLATION: if heavy rain predicted we will cancel. So please give us your contact into.
QUESTIONS:  If you have any questions about the hikes, feel free to call. We would love to assist!
845 439 5507   (Thursday to Monday)
For more free guided outings during the 15th Lark in the Park – catskillslark.org