Saturday JUNE 8
Festivities from 11 am to 3pm
Parade kicks of at 1 pm
Come enjoy this exuberant, creative and colorful street performance as it flows down Main Street and into your heart.
Huge puppets, fabulous marching bands, floats, great costumes.
Check out all Parade Day details HERE and make your way to Main Street Saturday, June 8th.
Morgan Outdoors is hosting two special things during the TROUT PARADE:
PEACE PLACE at Morgan Outdoors .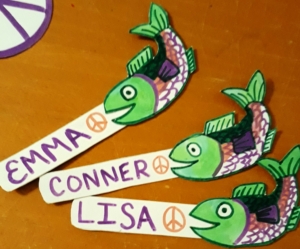 At Morgan Outdoors, we'll be sporting our Trout Parade nametags
and welcoming people to PEACE PLACE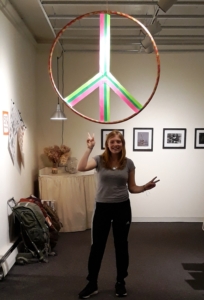 PEACE PLACE at Morgan Outdoors is a great spot to relax on parade day. Stretch out on a deluxe sleeping pad, close your eyes seated on a meditation pillow, peace out in the MSR tent. Discover puppets, books and games in the Children's Corner.
It's a great place to get a second wind for all the excitement on Main Street!
TINA THE TROUT , an 8' long brook trout, will be swimming across our front window waiting for you to take a photograph with her.  Wait until you see her eyelashes!