We drew three winning entries for the 11th Annual Morgan Outdoors Catskill Fire Tower Hikes PASSPORT on October 13th and the winners are . . . drum roll:
1   Kristen Nelson, Monticello, NY won an Osprey Daylite pack
2   Brendan Moore, Wurtsboro, NY won Darn Tough VT socks
3   Kathryn Rodgers, Rockaway Beach, NY won a solar-powered Luci light
These intrepid hikers visited all 5 towers over the summer. We want to thank ALL Passport participants for their enthusiasm and participation. It's great to hear that the Passport program stimulated many hiking adventures, especially for families!
  *    *    *    *    *    *    *
We are so inspired by 1st prize winner, Kristen Nelson's motivation for doing these hikes and honored that she gave us permission to share her story with you. Thank you Kristen!  Here is her story:
"Me and my brother lost a close childhood friend Chris Potter to a brutal 2 year battle with cancer at the age of 32 years young. He and my brother were big into hiking, I personally never understood or shared their excitement. In the months leading up to Chris's passing, he made me stop and look around and appreciate the simple beauty in this life and this beautiful area we're blessed to call home. We live with the Catskills, the Hudson Valley and the Delaware Water Gap in our back yard!
He really made me understand and appreciate his love of hiking and taking advantage of these moments every day we're physically able to.
Shortly after Chris's passing, my brother was unable to work due to a severely broken arm injury. He was injured, frustrated he couldn't work and mourning the passing of his dear friend. I just couldn't have that. If Chris were around, he would've been the first person to pick my brother up and drag him out for a hike and an adventure. I knew it was up to me. So me and my brother started hiking one weekday a week and most weekends too.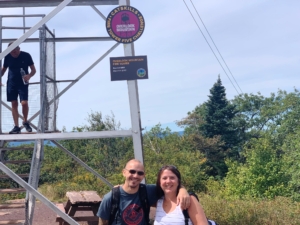 In July, on a whim I decided to hike to the Balsam Lake fire tower with a friend…. Chris always loved hiking fire towers and I wanted to see for myself what was so special about them. On that hike I heard about the Catskills fire tower five challenge from a fellow hiker… the rest is history!
Immediately following the hike, I called my brother (shown at left with Kristen on Overlook Mt.) and told him about the challenge and our minds were made up! We were doing this challenge in Chris's memory and honor because had he been here with us this is a challenge he would have excitedly accepted. Me and my brother hiked all five towers in a 21-day span. These hikes pushed us mentally and physically (Hunter Mountain kicked our butts! 2000 foot elevation gain in just 2 miles!) but those views from each tower were stunningly beautiful and worth every bit of effort!
This challenge helped us both heal. It helped us honor Chris and it gave me and my brother an amazing experience to share together! We shared many long talks and laughs along the many miles to each tower. This experience and those views will stick with me for many years to come.
Here are some photos of the hikes. Thank you again for the hiking pack and for hosting an amazing challenge and for encouraging people to experience the wonder these towers offer! Thank you! "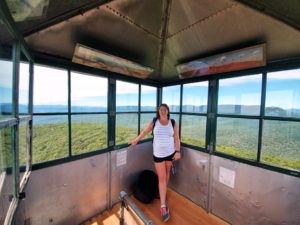 Kristen's prize was an Osprey Daylite pack to accompany her on future adventures!