The colorful exhibition of John Adams paintings titled "Rust In Peace"
showing at Morgan Outdoors through Monday, August 22
inspired a hike that will pass an old rusty VW Bug abandoned long ago.
Sunday, August 21, 1:30 – 2:30 pm.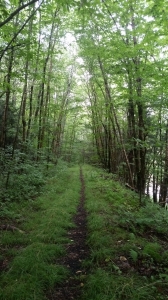 This 1.5-mile hike is on level terrain along the O&W Rail Trail, 5 miles from our front door.
Meet at Trailhead Parking lot on Old Rt. 17 at Fox Mountain Rd, across from the Citgo station in Parksville NY.

Immediately afterwards: enjoy a cold beverage at nearby Rolling River Cafe and toast their 8th anniversary. Consider staying on for early dinner and music by the David Walton Band.
Menu and reservation info at www.rollingriver.net .

RSVP for the hike at 845 439 5507.
(outdoor music and hike are weather sensitive so call before going if weather turns rainy!)