SPECIAL CLINIC
Saturday, August 5th 11:00 am – 12:00 pm
Our terrific LE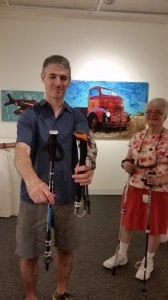 KI rep Bill Keys is coming up from Philadelphia to show us the latest Leki poles and share great ways to use them. (that's Bill in photo demonstrating how compact and portable Leki'sMicro Vario poles are when folded.)
If you have a bum knee, worry about falling, are overweight, have poor posture, or love steep trails . . . good hiking poles are a HUGE help so you can safely do more
And you'll be amazed at how you can LOOK UP MORE while you walk!
We'll start inside, then have an optional outdoor demo on a nearby hillside. RSVP at 845 439 5507 so we have enough for everyone.
And if you want to get started right away, we have two more free hiking pole clinics:
July Mondays at 5:45 pm
July 24 and 31
Our own informal in-store hiking pole clinics for anyone who would like to learn more about them
We'll  show you the great things hiking poles can add to your walking/hiking experience. and let you try them out.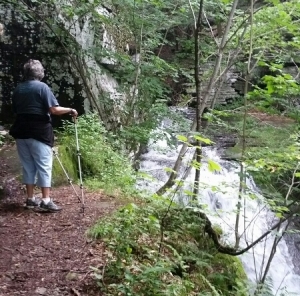 All participants score a 25% off coupon, good for all Leki and Kelty poles in stock.
The program is free.
To RSVP and ask any questions, call us at 845 439 5507.