You're invited to
"Wings"
an exhibition of oil paintings by Helena Clare Pittman
Opening Reception – Sunday, December 10th
1:00 to 2:30pm.
The oil paintings on wood and board sweetly convey that the artist loves birds. "It has been a lifelong love, from the robins and sparrows I watched in Brooklyn, as a child, and the jays, mockingbirds, finches and especially the crows that live in such numbers on Long Island where I later lived," recounted Pittman. "Here in Sullivan County, the eagles, hawks and owls take my breath away.  I pull over to the side of the road to watch them when they suddenly appear as I drive these country roads. I have imagined having a bumper sticker that reads: "I brake for birds."
All artwork will be for sale, ranging in price from $75 to $250. Framed simply in wood, they range from small to medium sized and will brighten a wall or shelf with their lively images and colors. The artist will be present to sign her book, "Crow Flies," and to answer questions about her work.  There will also be greeting cards for sale with images of Pittman's watercolor paintings of birds.
ABOUT THE ARTIST: Helena Clare Pittman has taught painting and writing at Parsons School of Design, SUNY and CUNY Queens College. She teaches locally at The Daniel Pierce Library, and on line at The Creative Writing Center. She has shown her work in galleries since the 1980s and designed and painted a 12-panel mural for the children's room at the Daniel Pierce Library in Grahamsville, NY. She has written and illustrated books for children, 17 of which have been published to date, and she has written many stories for Cricket and Cicada Magazines.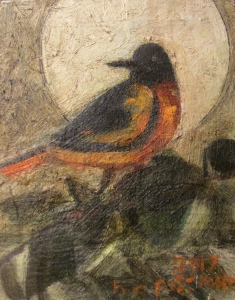 PHOTO CAPTIONS: " Barn Owl in Flight" and " Nightbird", oil on wood, by Helena Clare Pittman