You're invited on a visual odyssey
with Nora Scarlett
Sunday, December 3
1:00pm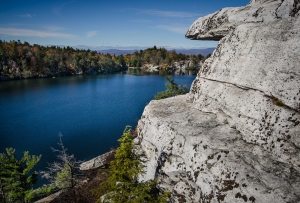 Nora's stunning images will inspire and delight nature lovers, photographers, hikers and anyone who appreciates our remarkable landscape.
From Minnewaska to Sam's Point, and back up to Mohonk, with many stops in between, join Nora on her visual odyssey through the Shawangunk Mountains in search of the unexpected.  She will show images from some of her favorite places, including Lake Awosting, the Peterskill, Spruce Glen, Lost City and Gertrude's Nose.  Also she will share a few vignettes of her favorite species, including the red eft, the pink lady slipper, the box turtle and the red trillium. 
Looking for wacky formations, humorous characteristics, improbable locations, surprising shapes, Nora created her "Trunks of the Gunks" series which was published last year. During the project she became awed at scene after scene displaying how life adapts to adversity and how it succeeds in astonishing ways. 
In the recently released "Saving the Shawangunks" by Carleton Mabee (Black Dome Press, 2017), she created a portfolio of images to compliment the text.  They depict many familiar locations seen with a different eye, many from the areas that would have been impacted by the development documented in the book.
These stunning and evocative images result from over 10 years of hiking the region, all made possible because of the persistent and tenacious efforts of so many to preserve this land.  Nora hopes that viewing these photographs will inspire people to get out and appreciate the wonders that abound.
 Both books will be available for sale. They make great gifts, especially when signed and personally inscribed!
RESERVE your seat today! Call Morgan Outdoors at (845)439 5507.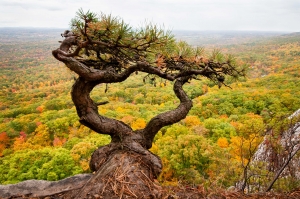 ABOUT THE PHOTOGRAPHER  Nora Scarlett worked as a photojournalist for the campus press while attending UC Berkeley during the exciting and turbulent early seventies, then moved to New York City in 1976 and began assisting several respected photographers, learning both technical and studio management skills. Inspired by large-format cameras and studio lighting, she discovered a talent for creating still-life photographs. After many hours in the studio developing her craft and style, themes emerged that still define her work: bold use of color and light; elegant and sometimes quirky composition; a fascination with making ordinary objects beautiful; and developing concepts that result in a series of images.By the mid-1980s Nora was shooting major advertising assignments, working with leading agencies and talented art directors on well-known campaigns. She won numerous awards from the Art Director's Club, the One Show, the Clios, and Print Magazine. After twenty years and the birth of two children, Nora and her family moved to the New Paltz area in 1998, buying a home in the woods bordering Mohonk Preserve where she now has more time to focus on personal projects and to pursue photography in a less commercial way.
PHOTO CAPTIONS:
Above: Rock ledges above Lake Minnewaska with Catskill Mountains in background. Photo by Nora Scarlett.
Below: Pitch Pine on top of the Trapps overlooking the Wallkill valley. Photo by Nora Scarlett.