Saturday, March 10th
6:30-7:30 PM
The Catskills Astronomy Club and Morgan Outdoors will present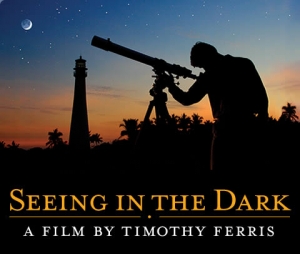 PBS documentary Seeing in the Dark
at Morgan Outdoors.
The film is a good introduction to the rewards of hands-on astronomy. Stargazers featured in the film include a musician, teacher, artist, and NFL running back, combined with high-definition astrophotography.
Seeing in the Dark (60 minutes) is written, produced, and narrated by Timothy Ferris, a best-selling author and filmmaker, based on his award-winning book of the same title. It is a beautifully photographed and inspirational account of the significant impact of amateurs in the field of astronomy. Music by Mark Knopfler and Guy Fletcher.
Immediately following the program is a public observation session at Walnut Mountain in Liberty, NY.  Catskills Astronomy Club members will set up powerful telescopes and give the public a chance to see the night sky up close.  If the skies are cloudy on March 10th, March 16th and 17th are backup viewing nights, depending on which night is better.
This program is suitable for curious children ages 10 and up.  If you have a budding interest in astronomy, this is a good time to meet Catskills Astronomy Club members and learn about their monthly public viewing events on Walnut Mountain in Liberty.
Advance registration is requested by calling Morgan Outdoors at (845)439-5507, as seating is limited.