Sunday, March 18th at 2:00pm
the public is invited to a Maple Weekend Tour at the Catskill Mountain Sugar House in Grahamsville, NY. The tour will be followed by a short snowshoe or hike, depending on conditions, around the 800-acre mountaintop farm. Joining the hike will be the Hayraisers, a 4H club of adventurous 5 to 13-year olds formed under the auspices of Cornell Cooperative Extension Sullivan County. This outing is geared to families as well as adults. We will form two groups to accommodate different speeds.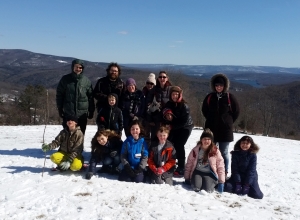 MEET: Participants will meet at the Catskill Mountain Sugar House at 2:00pm, located on 227 Glade Hill Road in Grahamsville to witness syrup production using an oil-fired evaporator at a premier organic maple syrup farm.  The group will then hike the beautiful property nestled in the Catskill Mountains above Rondout Reservoir.
RESERVATIONS are required by Saturday March 17th by calling Lisa at (845) 439-5507 or emailing info@morgan-outdoors.com.
GROUP SIZE: There is a maximum group size of 25, so register early.
SNOWSHOES: If trail conditions call for snowshoes, Morgan Outdoors is offering rentals for this special event at $5 per person. Snowshoe reservations and driving directions can be obtained with RSVP.
SPONSORS: This event is sponsored by Trailkeeper.org, with experienced staff from Trailkeeper.org partners: Lisa Lyons of Morgan Outdoors and Heather Jacksy of Sullivan County Division of Planning and Environmental Management. Trailkeeper.org is a partnership of local organizations, businesses, and agencies to promote the public trails and natural beauty of Sullivan County, NY, including: Delaware Highlands Conservancy, Catskill Mountainkeeper, Sullivan County Visitors Association, Sullivan County Division of Planning and Environmental Management, Morgan Outdoors, Cornell Cooperative Extension, and Sullivan Renaissance.
PHOTO:  Snowshoeing with Children       PHOTO CREDIT: Heather Jacksy