Saturday, August 4th
1:00 – 3:00pm
You're invited to the  Opening Reception of an exciting new exhibition "Streams – Art in motion" highlighting the many wonders of the upper Delaware River watershed. Local artist Robyn Almquist is creating an 8 x 8-foot mural that illustrates the Delaware River's journey from the headwaters to the Atlantic Ocean and highlights two key tributaries in our backyard, Willowemoc Creek and the Beaverkill.  The mural uses visual art as a means to create awareness of our watershed. It is also interactive, making it fun and memorable for all ages!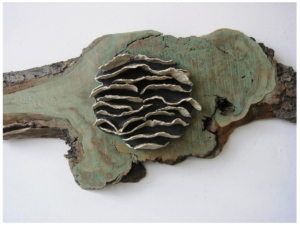 Stunning sculptures by Naomi Teppich will bring the biota of the river and tributaries into the exhibition room. Organic wood slabs with mounted ceramic lichen pieces will hang above cast cement mushrooms installed along the floor. Naomi will also lead two outings along tributaries in the Livingston Manor area and discuss her inspirations received from the natural beauty of these environments to create her sculptures.
Two "Local Topo" workshops are planned during the exhibition, one for children and one for adults. They will combine outdoor and indoor activities to teach the basics of topography and map-reading. This lost art is not only tremendously useful but lots of fun!
Several public presentations are also planned– featuring treasures of the headwaters: the walks and writings of John Burroughs; Artists who fished the Catskills; and a look at a special First-growth Forest.
A full calendar of events and an exhibition poster will be available on August4th. Stay tuned!
Photo:  River Lichen by Naomi Teppich