5:00pm at Walnut Mountain Park
Liberty, NY
This  is the third in a monthly series aimed at engaging folks age 60 and up to come out and enjoy several beautiful beginner trails in Sullivan County. The experienced trip leaders are Lisa Lyons of Morgan Outdoors in Livingston Manor and Glenn Horton of the Friends of Walnut group currently constructing an ADA accessible trail at Walnut Mountain Park.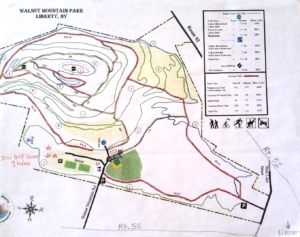 This outing is 1.5 miles in length, on a single-track trail with a gentle ascent for 1/2 mile. The route will pass by the public disc golf course, with a quick demonstration of how to play. Participants should be able to walk 1.5 miles unassisted and have permission from their doctor if under medical care. There will be hiking poles available to use at no cost, with simple coaching on how to use them to improve stability and enjoyment.
REGISTRATION is required. Simply call Morgan Outdoors (845) 439-5507 by 12:00pm Wednesday, August 15th or email to info@morgan-outdoors.com.
Meet in Walnut Mountain's parking lot by the baseball fields, located at the end of Walnut Mt. Road, off of Rt. 52. Walnut Mountain is a beautiful 265-acre Town Park with many carriage roads and over 15 miles of single-track mountain bike trails built and maintained by volunteers.
Directions and park details are at: http://www.townofliberty.org/wp-content/uploads/2016/01/walnut.pdf.  The outing will be cancelled in extreme weather.