Five Fire Tower PASSPORT 2019
Sometimes it helps to have a little incentive to do something FUN!
Consider taking a hike to one of the five restored Catskill Fire Towers this year.
Here's our incentive:
Morgan Outdoors
11th Annual Five Fire Tower Hikes Guidelines
1. Hike to one (1) or more of the 5 Catskill Fire Towers between May 18 and October 14, 2019
2. Enter hike details on your Morgan Outdoors Five Fire Tower Passport 2019.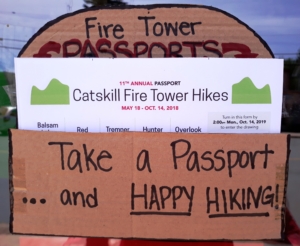 Pick one up at Morgan Outdoors (there's a holder on our front window for 24-hour access)
or DOWNLOAD one here:
 3. Turn in your Passport at Morgan Outdoors by Monday, October 14th, at  2:00pm, to enter the
drawing for 3 great prizes:
Osprey Daylight pack  «  Darn Tough Vermont socks  «  LUCI solar powered light
HISTORY:  Years ago, fire observers watched over the Catskill forests from 23 towers, searching for signs of forest fires. Today, only 5 steel towers remain in the 1,102 square-mile Catskill Park – restored by volunteers so you can enjoy amazing views. Restorations made possible through a partnership between volunteers, the NYSDEC and the Catskill Center for Conservation and Development in Arkville, NY.
DIFFICULTY:  Hikes range from "kinda" easy to "gosh darn" tough. Red Hill is a great beginner choice.
 MAPS:  The NY/NJ Trail Conference produced a special brochure for each Fire Tower, with a trail map and hiking guidelines.
PASSPORT:  On weekends, some Fire Towers have volunteers at the summit or covered cans where you can get a fire tower card that proves you have been there. Get one and fill it out!  If this is not available, just simply fill out the Passport. The more fire towers you hike to, the better your chances of winning a prize, but you only need to hike to one tower to enter!  Turn in your Passport at Morgan Outdoors by 2:00pm October 14th. The drawing will be held the evening of Monday, October 14, 2019.
So what are you waiting for?    Get Hiking!
If you need DRIVING DIRECTIONS we're happy to help.