Wednesday, June 12th
3:00 – 4:00pm
The public is invited to join a Senior Stroll on along the Hurleyville Rail Trail in Hurleyville, NY.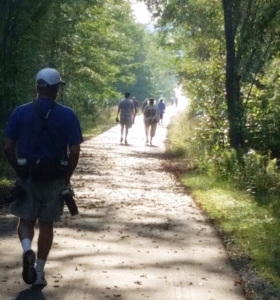 This group outing is the second in a monthly series aimed at engaging folks age 60 and up to come out and enjoy several beautiful beginner trails in Sullivan County. The trip leader is Lisa Lyons of Morgan Outdoors in Livingston Manor.
This outing is a 1.5 miles round trip on a smooth paved rail trail. The route will pass by wetlands and through a rock cut dating back to the early days of the O&W railroad. Participants should be able to walk 1.5 miles unassisted and have permission from their doctor if under medical care. There will be hiking poles available to use at no cost, with simple coaching on how to use them to improve stability and enjoyment.
Meet at the Hurleyville Rail Trail parking area, adjacent to the Pickled Owl restaurant on Main Street in Hurleyville. The outing will be cancelled only if heavy rain is forecast.
SENIOR STROLLS OUTDOORS proudly participates in the Sullivan Club 180 Campaign. Created by Sullivan 180, the Sullivan Club 180 Campaign is an easy way for everyone to take charge of their own health by joining or creating their own Club 180.
REGISTRATION is required. Call Morgan Outdoors (845) 439-5507 by 12:00pm Wednesday, June 12th or email to info@morgan-outdoors.com.