SECOND DAY ADDED!
Sunday, Dec. 22nd 
11 am – 1 pm
Treat your skates to a professional sharpening and get an edge on the ice this winter.
Skate Sharpening workshop with Chris Bartlett
Saturday, Dec. 21st    12 pm – 3 pm
We are thrilled to host Chris – He is a font of knowledge about skates and skating!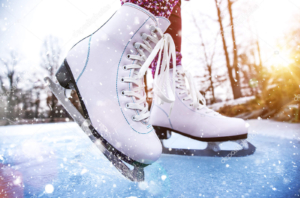 To book a sharpening session, call Morgan Outdoors at (845) 439 5507 or stop by the shop.
The sharpening fee is $15 a pair. Two options:
1.  Book a time with Chris –  sharpening sessions are available from 12 pm to 3 pm.
2. Drop Off:  Skates can be dropped off prior to 12pm Saturday and picked up any time before Dec. 31st.
With many local ponds and rinks, it's great to have a local option for skate sharpening.
MORE ABOUT CHRIS   After a career as a professional figure skater with Disney on Ice, Chris Bartlett founded his own figure skating products and services company. He has served as Chief Technician at numerous US National and World Figure Skating Championships and is a font of knowledge about skates and skating!