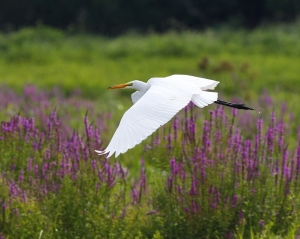 Saturday, March 7th at 4:00pm, the public is invited to an exciting free program
"Birds of the Bashakill" with Sullivan County Audubon member Lance Verderame.
The program offers a season by season account of the incredible bird life of the Bashakill Wildlife Management Area, located near Wurtsboro, the largest freshwater marsh in southern New York State.
Lance will explore why this is one of the premier birding locations in the state and the best in Sullivan County. Participants will also learn how the time of day and certain weather events affect the number and type of birds seen as well as the numerous rarities found in this birding hotspot.
John Haas, author of "A Birding Guide To: Sullivan County New York" will join Lance for an exciting question and answer session. PLUS, John's book will be on sale at the event and ALL proceeds will go directly to the Basha Kill Area Association.
PHOTO: Great Egret – an uncommon, annual visitor to the Bashakill during Spring and Fall migration. Photo contributed by Matthew Zeitler
Also on display in Morgan Outdoors' Catskill Park room, through April 10, is an exhibit on the life and tragic extinction of the passenger pigeon, sponsored by John Burroughs' Woodchuck Lodge. Developed and designed by the Chicago Museum of Science and its Peggy Notebaert Nature Museum, the exhibit includes a locally-produced panel about Burroughs and his sightings of and comments on this amazing bird.
RESERVE your seat for the March 7th program by calling us at 845 439 5507.  First come. first served.