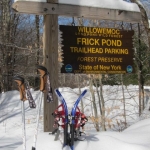 If you are interested in local trails
You're invited to a kick-off for the Willowemoc Trail Crew!
A relaxed gathering of people interested in public trails in the southwest corner of the Catskill Park.
Learn about the trails that volunteers help maintain, and some of the things that the recently-formed Willowemoc Trail Crew does.
Great maps, trail info and people!
MEET Jeff Senterman and Heather Rolland of the NY-NJ Trail Conference
and Ralph Bressler, volunteer Willowemoc Trail Crew leader.
There will be refreshments and door prizes!
RSVP to Lisa at 845 439 5507 to reserve a spot.
At 2:00pm there will be an OPTIONAL SNOWSHOE OUTING to Frick Pond!
Trail crew members have been breaking trail there to make snowshoeing much easier and inviting to beginners.
We'll supply FREE rental snowshoes for anyone who needs them. Call us at 845 439 5507 to reserve a pair.
Stop by!  It'll be warm and cozy inside – and the trails at Frick Pond are simply gorgeous.
Sponsored by the New York-New Jersey Trail Conference and hosted by Morgan Outdoors.