Saturday, March 28th at 4:00pm, the public is invited to a special introduction to celebrated naturalist John Burroughs with Bill Birns at Morgan Outdoors in Livingston Manor, NY. Burroughs, born in 1837 on the family's Delaware County homestead in Roxbury, NY, authored 27 books of nature and philosophical essays that influenced millions of readers.
In the early years of the twentieth century, John Burroughs rivaled Mark Twain as the most widely-read and well-known writer in America. He was a naturalist who wrote nature essays that appeared regularly in America's top magazines, a poet and literary critic who drew his readers toward a worldview that valued simplicity in living in harmony with nature. His essays appeared in a widely used school reader, so Burroughs was familiar to generations of school children.
At his boyhood home, just above Roxbury, NY, young Burroughs was uninterested in the farm chores that were the daily regimen of his hard-working, uneducated parents and eight brothers and sisters. He liked to read and write, and was keenly interested in books, poetry and the natural world around him.
Program presenter, author, and educator, Bill Birns, is a 43-year resident of the Catskills. His column, "A Catskill Catalog," ran from 2007-2012 in the Catskill Mountain News. Bill's first book, "A Catskill Catalog", was published by Purple Mountain Press and his second, "The Myth in the Mountain" at mountainartsmedia.com. Bill taught English and social studies at the Margaretville Central School for 29 years, and for seven years taught English and led the English Department at Onteora High School. He is also the current President of the Board of Trustees of John Burroughs Woodchuck Lodge and resides in Fleischmanns, NY.
Concurrently on display at Morgan Outdoors is an exhibit on the life and tragic extinction of the passenger pigeon, sponsored by John Burroughs' Woodchuck Lodge. Developed and designed by the Chicago Museum of Science, the exhibit includes a locally-produced panel about Burroughs' sightings of and writings on the amazing bird.
To reserve a seat for the March 28th program, call 845 439 5507, as seating is limited. Morgan Outdoors is located at 46 Main Street, Livingston Manor, NY.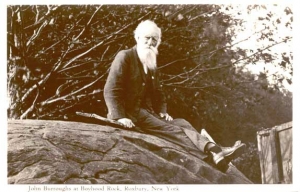 For more information 845 439 5507 and www.morgan-outdoors.com.
PHOTO CAPTION: Reminiscing his boyhood, John Burrroughs (1837-1921) sits atop his Boyhood Rock, about 1910. The glacial boulder sits in what is now a New York State Memorial to Burroughs, on the hardscrabble Catskill Mountain farm in Roxbury NY where he grew up.