Saturday, June 13, 2015    11 am to 3pm
There is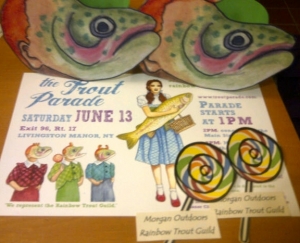 zany, fishy fun planned for the 12th Annual Trout Parade on Main Street in Livingston Manor, NY!
The lineup for the 12th annual Trout Parade is well worth the trip and there's also a fantastic lineup of performances before and after the parade.
You'll find the schedule, maps, and reviews of past parades on the Trout Parade website. There's even a Trout Parade Facebook page.
This one-of-a-kind extravaganza is produced by the Catskill Art Society in partnership with the Livingston Manor Chamber of Commerce
Check out our zany rainbow trout hats (top of photo) for parade day!
– poster artwork by Elizabeth Ennis –