Congratulations to Grand Prize winners
of Morgan Outdoors 8th Annual Five Fire Tower Passport!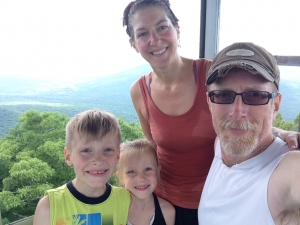 Ronan (8), Evelyn (6), Stephanie, and Ken
Their personal story is inspiring and energizing!
"I think our favorite one was Hunter Mountain–we actually made that hike an overnight backpacking trip…we hiked in to the Devil's Acre lean-to on Saturday, spent the night, and climbed the fire tower first thing Sunday morning, on our way back out. We did that hike at the end of September, which made for a pretty cold night, and quite a chilly morning. We especially liked the fairy-tale balsam and moss forests on the top of the high peaks–we'd never been up in that ecosystem before, and it was really beautiful.
The other wonderful surprise was the fantastic volunteers! They were all extremely kind and helpful, and many times had really good advice or insights into great hikes in the Catskills. As our youngest child is now 6 years old, we're starting to be able to do some more "serious" hikes."
What a wonderful review. Thank you Nystrom family!
The 2016 winners are:
1.  Nystrom family, Kingston NY – hiked to 5 towers (see below) – prize: Osprey Daylite pack
2. Alyssa Plow, Rochester, NY –  hiked to 5 towers – prize: Darn Tough VT socks
3. Max Bass, Cold Spring, NY – hiked to 5 towers – prize: Klean Kanteen water bottle