Saturday,  Dec. 2
Curious about winter hiking, winter camping or the 3500 Club?
Join us to gain new skills and prep for winter adventures.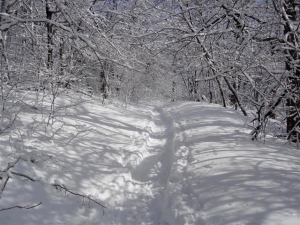 Tom and Laurie Rankin, long-time 3500 Club* members, will share their winter mountaineering skills, learned over many years, in a relaxed, indoor presentation.
They have climbed all of the Catskill 3,500′ peaks at least twice in Winter, as well as all the 4000'+ peaks in the North East.
MUST REGISTER by Dec. 1st (minimum 6 participants to hold class)
Email: lauriejrankin@gmail.com (preferred)   or phone (845)-926-2182
  Slide Mountain in Winter   (photo L. Rankin)
** The Catskill 3500 Club, often referred to as the 3500 Club, is a non-profit organization for hikers in the Catskill Mountains of New York, where there are 35 peaks higher than 3,500 ft. elevation.