Friday, August 2nd
from 4 to 7 PM
You're warmly invited to the
Balsam Lake Mountain Fire Tower

's Centennial Celebration
at Morgan Outdoors!
There will be numerous displays including information on the history of the tower, the Observers who served there, its restoration, the flora and fauna in the area, and a salute to the volunteers who have been caring for the tower. We hope many will come and contribute memories of Balsam Lake Fire Tower (BLM). Birthday Cake and beverages will be served and Centennial patches will be available.
If possible, please RSVP to Lisa at 845 439 5507 or by email to [email protected].
On Saturday, August 3rd from 12 to 2pm there will be special children's events at the fire tower for any hikers who choose to visit. It is rumored that Smokey Bear will be in attendance if he is not busy with a search or a wildfire. Smokey is celebrating a birthday too – he will be 75 this year!
  *  *  *  *  *  *  *
Other Centennial NEWS: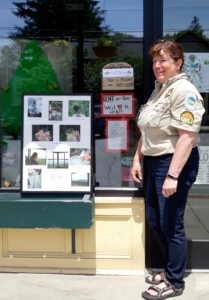 On June 12th, Livingston Manor Central School's 4th, 5th and 6th graders helped kick off the 100th anniversary celebration. They enjoyed presentations and demonstrations in their classrooms with Laurie Rankin, Fire Tower Volunteer Coordinator!
Laurie stopped by Morgan Outdoors afterward to plan the Centennial celebration on August 2nd.
And why not visit the Balsam Lake Fire Tower yourself!
Before you go, pick up your Catskill Fire Tower Hikes Passport (or download a copy at https://bit.ly/2M7SPHt) and enter it in our drawing to win some wonderful prizes.
We have a Passport holder taped to our front window so you can pick up a Passport any time!