Friday August 2

nd  4pm to 7pm
You're invited to the Balsam Lake Mountain Fire Tower Centennial celebration, an Open House hosted at Morgan Outdoors.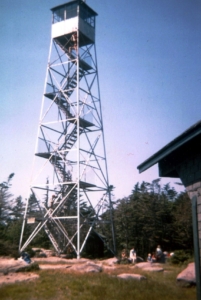 There will be Birthday cake, beverages, some cool fire tower displays, including information on the history of the tower, the Observers who served there, its restoration, the flora and fauna in the area, and a salute to the volunteers who have been caring for the tower. We hope many will come and contribute memories of Balsam Lake Fire Tower (BLM).
Centennial patches will be available. If possible, please RSVP to Lisa at 845 439 5507 or by email to [email protected].
On Saturday, August 3rd from 12 to 2pm there will be special children's events at the fire tower for any hikers who choose to visit. It is rumored that Smokey Bear will be in attendance if he is not busy with a search or a wildfire. Smokey is celebrating a birthday too – he will be 75 this year!
PHOTO CAPTION
Balsam Lake Mountain Fire Tower has been a family picnic spot with a view for 100 years, courtesy FFLA/Dick Eckler, 1973
HIKING TO THE TOWER:  If you need a little incentive to hike to the tower, Morgan Outdoors is happy to oblige. Our 11th annual FireTower Passport includes a chance to win prizes. download a copy at https://bit.ly/2M7SPHt)
The 100-year old tower is a much-loved destination for hikers. You can find the trailhead at the very end of the Beaverkill Road in our corner of the Catskill Park.
NY State just announced a FireTower Challenge too. And the views of the Catskills from atop at tower is worth every step to get there.
So what are you waiting for? Get out there for your very own outdoor adventures!